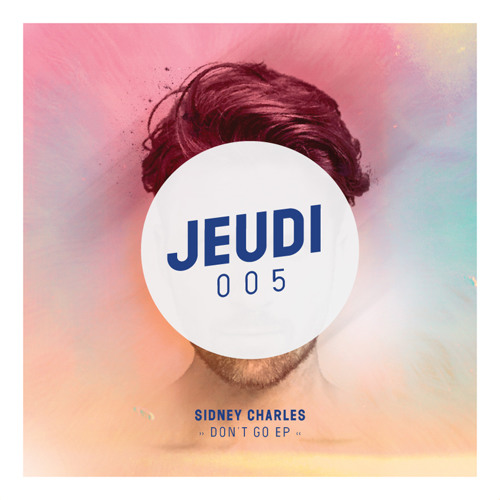 by DoctorDru http://ift.tt/2aIPC9l JEUDI Records 005
Sidney Charles – Don't Go EP
After the huge success of the JEUDI Records Friends EP with Monte's "True" the 5th release of JEUDI Records is welcoming yet another young gun from Hamburg House City. Sidney Charles is deep into the drivin, energetic jackin' house style. His two originals come with strong vocals, dominant basses and a dash of old school flavour. This diversified release is supported by two stylish remixes from Re.You and label crew member Doctor Dru. Re.You captures the Berlin deep technoish vibe with a heavy tombass and a rare hypnotic groove. Doctor Dru's remix is showing the melancholic and soulful feel of the vocals. Perfect for the late summer nights.
A1 Don't Go
A2 Falling Down
A3 Don't Go (ReYou Remix)
A4 DOn't Go (Doctor Dru Remix)
http://ift.tt/2aIQdrp dru
Releasedates :
Vinyl 20.09.2012
Beatport 01.10.2012
All platforms 15.10.2012
Buy the white vinyl here:
http://ift.tt/2aK7jIP
Already supportet and liked by:
Dj T., Round Table Knights, Larse, Magda, Santé, MANIK, Trickski, Adana Twins, Doctor Dru, Davidé, Hot Since 82,The Mekanism, Adriatique, NTFO,Robert Owens and many more…
Selected feedbacks:
DJ T. (Get Physical)
will download.thank you for good music!
Robert Owens (Rebirth)
falling down org.mix, great
cool vibes
Round Table Knights (Made to Play, Defected)
Love the Doctor Dru Remix!
Santé (Avotre)
Doctor Dru Remix bombt! 1plus! Fett kommt gleich in den neuen Mix.
Hot Since 82 (Noir Music)
The re.up remix is amazing, willplay at watergate next week for sure 🙂 thanks
MANIK (Ovum, Culprit)
Solid release here. Like the flavors. Thanks.
Trickski (Suol)
Falling down and the dru remix are the ones for me. thx!
Larse (Noir, Dikso)
Doctor Dru Remix is really nice!!
Mercury (Gomma)
yessir, Re.You remix for me….dope dope dope….
Viadrina (Klasse Recordings, Your Mamas Friend)
The original mix and Doctor Dru remix are sick! Yes, thanks and big ups for this!
Shir Khan (Exploited)
Like the original, Re.You and Doctor Dru Remix. Re.You for primetime, Doctor Dru for the ladies and original for the B-Boys:)
Tapesh (Get Physical)
Don't Go (Doctor Dru Remix) "Brillant Remix so much feeling in that luv it "
Andre Crom (Off Recordings)
Both remixes are cool.
Daniel Dexter (Poker Flat, Mother Recordings)
Re.You & Doctor Dru Remix for me !
NTFO (DIYNAMIC)
Sick package! it's very hard to choose a favourite.
Don't go looks be the one for us but we will play all. Thank you Jeudi!
Homework (Exploited, 2020 Vision)
Don't Go is another bomb! Also really enjoying Dru's epic melancholy take.
Joyze Muniz (Exploited, 2020 Vision)
very cool ep like originals and remix ! nice one thx!
Los Suruba
Nice ep! We love the Doctor Dru remix, support!!
Niko Schwind (Stil vor Talent)
Great release! Re.You & Doctor Dru Remix for me! thanks
El_Txef_A
YOOOOOO!!!! Falling Down and " Don't Go " dr dru remix are killer !!!! will try this sat !!!!!!Thnk u for this ep and keep me updated !! all the ep sounds killer nice mastering too thnk u
The Mekanism (Needwant)
Re.You remix is cool ! Swinging!
Martin Eyerer (Kling Klong)
cool release.Also the re.you rmx. Will support and play
Animal Trainer (Stil vor Talent)
re.you remix is da shit !! full supoort !!
Nhan Solo (Mother Recordings)
Doctor Dru does it again, HIT ! ! !
Adriatique (DIYNAMIC)
thx!
Daniel Solar (Dikso)
Dr Dru Remix sounds very good to me! Thanks
Mihai Popoviciu (Cyclic Records)
will try, thanks!
Chris Luzz (Stranjjur)
looving both originals and doctor dru remix! full support
Dyed Soundorom
Re.You's Remix is the one for me! Nice EP at all
Adana Twins (JEUDI Records, Exploited)
Proud to have these babys on JEUDI Records.
Doctor Dru (JEUDI Records, Exploited)
Proud of our fifth release! Cheers, Dru